Major Henry F. Wallace Camp No. 160
Corunna, Michigan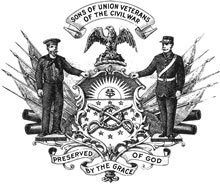 Contact:
Secretary: David Hiliker (989) 743-4270
Officers:
NEW! - "Although having 501(c) (4) Tax Exempt Status. "Donations to the Department of Michigan - Sons of Union Veterans of the Civil War, its Camps, or Sons of Veterans Reserve Units operating within the Department of Michigan, Are Not Tax Deductible."
About the Henry F. Wallace Camp No. 160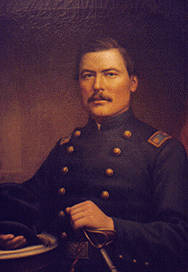 The Major Henry F. Wallace Camp No. 160 of the Sons of Union Veterans of the Civil War is named for the Grand Army of the Republic Post of that name which was originally located at Corunna, MI. That post was organized in 1883 and disbanded in 1937 when the last member died. Henry F. Wallace was born on September 7, 1832 in Clinton County, New York. He moved with his family to Michigan and lived on a farm South of Corunna. He was mustered in as a First Lieutenant of Company I, Fifteenth Michigan Volunteer Infantry on March 13, 1862 by Lieutenant Colonel J.R. Smith at Monroe, Michigan. Henry was wounded at the Battle of Pittsburg Landing (Shiloh) on April 6, 1862 and was promoted to Captain. He was transferred to the Veteran Reserve Corps due to his wounds. Henry died on May 15, 1867 at Point Coupee, Louisiana from Yellow Fever. At the time of his death he was a commissioner with the Bureau of Refugees, Freedmen and Abandoned Lands.

The Camp meets the on the First Wednesday of each month except June, July, August and December at 7:00 p.m. at the Corunna United Methodist Church at the corner of Woodworth and McArthur streets in Corunna. The Camp is often involved in several other gatherings.

Interested parties are encouraged to contact Camp Headquarters, at (989) 743-1668, for further information about membership requirements, meeting times and locations. Membership information and meeting locations can also be obtained by e-mail or from Camp Headquarters at the address listed above.