U.S. Grant Camp No. 101
Detroit, Michigan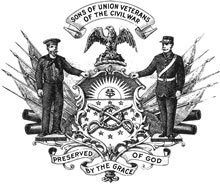 Correspondence:
Commander Michael D. Nick
1323 Mayer Road
St. Clair, MI 48079
(810) 367-9222
Officers:
| | |
| --- | --- |
| Commander: | Michael D. Nick |
| Senior Vice Commander: | Christopher Yagley |
| Junior Vice Commander: | |
| Secretary: | Jerald Walters |
| Treasurer: | Jerald Walters |
| Graves Registration Officer: | Michael D. Nick |
| Memorials Officer: | Michael D. Nick |
| Patriotic Instructor: | Henry Heatley |
| Camp Historian: | William H. Cottrell, Jr |
| Chaplain: | Chancey P. Miller |
| Eagle Scout Coordinator | Michael D. Nick |
| Camp Council | William H. Cottrell, Jr |
| | Daniel Cottrell |
| | Michael Davis |
About the US Grant Camp No. 101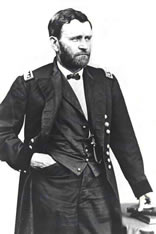 TThe Ulysses S. Grant Camp of Detroit was named for the ranking Union Civil War general and 18th President of the United States. Although not born or raised in Detroit, Michigan General Grant did spend some time living here during 1849 when he was a lieutenant in the Army. The house he resided in still stands on the grounds of the Michigan State Fair in Detroit.
Meetings: The Camp will be meeting quarterly on the third Saturday of the month at 1:00 PM at the Plymouth Historical Museum located just two blocks north of downtown Plymouth at 155 South Main Street, Plymouth, MI 48170. Their phone number is (734) 455-8940, and they are open Wed. through Sun. from 1-4 PM. We hope to see you there. Further information can be found at the following website: www.plymouthhistory.org
23 September 2006
20 January 2007
21 April 2007
21 July 2007
20 October 2007
Activities: The Camp participates in several community activities within the City of Detroit each year, which provides educational and living history to the public.
Every Memorial Day for the past 13 years our Camp has hosted a remembrance ceremony in full uniform for all veterans of all wars at the Civil War graves sites at historic Elmwood Cemetery. The Memorial Day Ceremony is at 11:00 AM and is open to the public and all are welcome.
Historic Fort Wayne in Detroit, Michigan conducts a Civil War Days each year the end of July, in which we have set up a recruiting tent and provided information on our organization, as well as, the Civil War.
When applicable we provide Headstone Rededication Ceremonies for the ancestors of Civil War veterans who have no grave marker.
This was the first year we participated in the Civil War Days at Richards Middle School in Fraser, Michigan. It was a wonderful event, which included the participation from the faculty and 8th grade students.
Meetings in Plymouth should also open up several new opportunities for events and activities within the community.
Membership: The U.S. Grant Camp #101 accepts member, associate (no direct lineage), and junior memberships (age 8-14 years) in the SUVCW. Our annual dues are $35 with a $10 initiation fee. For further information on membership and the SUVCW please contact Camp Commander.